ThermoQuench® / TurboQuench Is The Ideal Solution For The Temperature Controlled Processing of Wire Rod and Bar Products
Our patented quenching nozzles have an extremely high heat transfer coefficient achieved by an engineered combination of laminar and turbulent flow within the nozzle.
Applications
Inter-stand cooling
Wire rod mill water boxes
Post-rolling quenching (for self tempered rebar)
Principle of Operation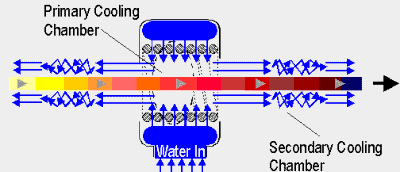 Calculated quantities of low pressure water impact the hot bar in the primary cooling chamber with a very high kinetic energy. This high kinetic energy disrupts the steam jacket formation and allows for fully wetted cooling to occur immediately, bypassing the inefficient film boiling present in other designs. Inside the nozzle, precisely positioned secondary cooling chambers reintroduce turbulence, which again prevents vapour blanket (steam) formation for continued intense cooling.
Click on thumbnail to view picture of ThermoQuench®

Patents
EP-Patent No. 0 144 029
US-Patent No. 4,629,165 (View US patent online)
Japan-Patent No. 1 594 421
TurboQuench TMT Process
The TurboQuench TMT process was developed and designed for P.P.Rolling Mills Mfg. Co. Pvt. Ltd. in India (www.pprm.in)
TurboQuench advantages
Provides optimal physical properties to the bars and other products
Lower consumption of alloys (FeMn, Fe Nb, FeSi etc.)
One chemical analysis range only for all sizes of bars
Increased yield in continuous casting and steel melt shop
Increased productivity in the melt shop
More than 50% reduction in the billet inventory
Zero discard by quality control
Operationally safe and presenting no restriction of rolling mill productivity
Matches high strength with excelent ductility and ensures good weldability.
Warranty
The P.P.Rolling Mills TurboQuench TMT process guaranties the following operational performances:
Maximum cooling effect, demanding minimum working area
Cooling defined very exactly on the strand section
Absolute concentric cooling on the bar section and uniform the whole strand length
Temperatur setting and maintenance within very accurate limits
Smooth bar conveying through the cooling devices
Suitable cooling for all diameters, by means of well calculated cooling elements
Quick exchange of cooling elements, whenever bar diameters is altered.
For more information about TurboQuench / ThermoQuench®, contact us.